Eyes are the windows to the soul, and as such, they can be one of the most captivating parts of your face. Moreover, now that we are using face masks, eyes are the only point of contact. Thus, the role of makeup should be to enhance your eyes and give them definition and impact and give them power to conquer. And the best way to do this- Use Eyeliners!
Eyeliner, specifically, can really perk up your peepers when wielded properly. However, on the flip- side, it can also really drag down your makeup look when used incorrectly. Here are some do's and don'ts to keep in mind before you grab that liquid liner.
Choose the right colour
If you're stuck on black eyeliner only, then you're missing out on a range of hues that can really boost your eye colour. For example, a brown shade is a less harsh option that creates a softer, more subtle effect. A deep, jewel-toned eyeliner such as an emerald green or sapphire blue can work wonders to bring out the colour of your eyes whereas a white or nude eyeliner on the lower lid works to brighten the eye, creating a refreshed, wakey appearance.
Do make it last
For an extra dose of staying power, waterproof gel liners are often your best bet for liner longevity- especially for the bottom lid. They also have less chances of smearing or running. Blotting papers for your lids are also a great idea, as they will take care of the eye makeup that may have smudged into the creases without ruining your liner.
Use a sharp pencil/ liner
While this may seem like a no-brainer, don't slack on keeping your eye pencils sharpened. Dull pencils with flat tips at the end will only yield a messy application of product when smooth and precise results are what you want.
Don't walk an uneven line
While no one is calling for absolute perfection when it comes to your eye makeup, there's a fine line between sophisticated and sloppy. Jagged, uneven eyeliner can ruin an otherwise good look. The biggest offender is liquid liner as it requires an ever-so-steady hand and it can be quite the challenge to apply smoothly. Of course, it also delivers a strong, fluid line; which means drama in spades. To keep a liquid liner straight, avoid tugging at the outer corners of the eyes. When you let go of the eye, the line will appear distorted. Moreover, that tugging over time can lead to wrinkles. On the other hand, a pencil or gel product is far more forgiving if you're in a rush or short on practice time.
Don't get too bottom-heavy
Overdoing it with a thick line under the eye is too bottom-heavy and can actually make your eyes look smaller rather than enhancing them. You're also more likely to end up with under-eye smudges if you go this route. It's better to swap the dark, thick liner for a lighter line and a subtle shade of taupe or light brown.
Don't skip the smudge-proofing
It's a common oversight to skip this step of eye makeup application. But in order for your eye makeup to last from sunup to sundown, you'll want to combat the smudge. It's not enough to just apply liner. First, you'll want to prep your lids by brushing them with a translucent powder. You'll also want to avoid putting any lotions or creams on the lids, as that can cause a good deal of smudging. Then, trace over the eyeliner line with a matching powder eye shadow.
These are just some of the eyeliner do's and don't. I hope that my tips will help you feel beautiful each time you look in that mirror. Do try these dos and don'ts today.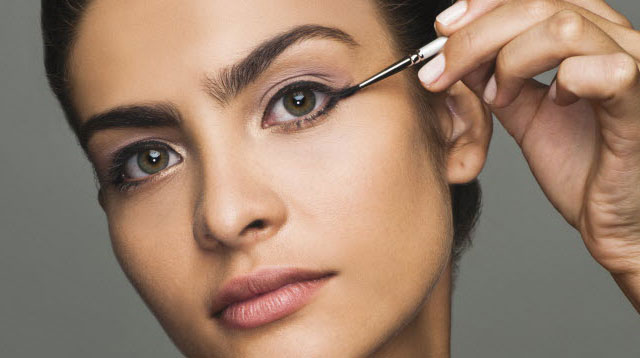 Here are some basic makeup tips for glowing skin that you must know about it click the link below 
https://morazecosmetics.com/blogs/make-up-tips/glow-on-the-go-basic-makeup-tips-for-glowing-skin