DIY ideas- How to get started with Nail Art?
DIY ideas- How to get started with Nail Art?
Are you fascinated by the ravishing nail art your friend got done the following week and aspire to have your nails done too? Don't have time to visit the salon? Well, you are under the right shade. In this particular post, we'll uncover everything you need to know before getting started with the nail art. Just gather the enthusiasm and we are good to go.  
Essential nail art supplies
 
Now, this is very naive of me to tell you that you require some specific tools to get started with naail art. Instead of investing in an expensive nail tool kit at the very level, I would recommend you to go only for the essential tools that you would require and could easily use as a beginner. Here are some you can go for-
1. Base-coat and Topcoat
While building a house we always take into account the foundation, in the same way, a base coat prevents your nail from staining whenever you apply a darker shade over them. You can skip this if you are going with a lighter shade.
You can go for Konad Regular Polish- R61 Konad and O.P.I Natural Nail Base Coat.
 
Topcoat is an additional layer that you apply when you are finished with the nail polish. It gives a smooth finish to your nail and restrains them from chipping.
Seche Vite Dry Fast top Coat and O.P.I Brilliant High shine Top Coat will work perfectly for you.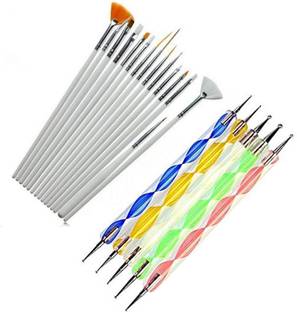 2. Dotting Tool
As the name suggests, this tool can be used for creating dots and circles of various sizes. The patterns created out of dots never go off-fashion.
Pro tip
- If you don't feel like spending on a dotting tool kit, the next best alternative is toothpicks.
3. Nail Polish
This is a super important item to have to get started with nail art. How can you prepare fries without potatoes? Initially, you should go with some basic shades like nudes, light and hot pink, classic red, pastel shades, and the shades you prefer the most.
There are so many reputed brands with affordable plus A1 quality Nail polish. Colorbar, lakme, Faces, O.P.I and Revlon to name some.

4. Stripping Tapes
 It's kind of a decorating item that can also be used to draw sleek lines. It comes in several colors and textures.
5. Stamping kit
 It is one of the easiest ways to get nail art. It basically consists of Stamper, Stamping plate, Scraper, and stamping polish. The Stamping plate comprises several designs and patterns that are printed over our nails with the help of a stamper. Before going for a stamping kit there are certain things that have to be kept in mind like the stamper needs to be durable and at the same time the stamping plate should be deep enough so as to easily get the pattern on the stamper. With that, it also should be easy to clean.
MCW Nail Art Stamping Kit, Biutee Nail Stamping set, Ejiubas Nail Art Stamping kit are good to go with.

6. Scissor and Tweezer

Tweezers are basically used to pick up stones and beads and then place them over your nails. It's one of the cleanest ways to decorate your nail.Scissors use may arise while you are striping tapes. So keep it handy.
 7. Studs, Stones, Stickers, and Loose Glitters
 You can use any of these accessories over the applied nail polish to make them more appealing.
 
8. Nail Paint Remover
After getting started with nail art, I am damn sure that you'll get hooked to it and will do nail art frequently. Therefore you should invest in a good quality remover as the cheap removers will leave your nails super dry.
You can go for Sally Hansen Strengthening Nail polish remover, O.P.I Expert Touch Lacquer Remover, and L.A Color Nail Polish Remover Pads. These will not only remove the nail polish but will also moisturize your nails.
9. Q Tip
It is used to remove the extra nail polish outside your nails, without spoiling your nail art.
 
 How to get started with Nail Art?
10.Cuticle Oil
 Last but not least Cuticle oil is a must-have. It's basically for the protection of nails and cuticles. It also stimulates nail growth.Tenoverten Rose Oil, Burt's Bees Lemon Butter Cuticle Cream, and CND Solar Oil to name some.
 
Let us create a nail art!
 Before getting started don't forget to clean your nails.
Apply a base coat as earlier stated it will protect your nail from getting
Then apply whichever nail polish you prefer
It's time to unleash the creative side of yours, whatever you have been it beads, stickers, glitters or stickers decorate your nails using
  How to get started with Nail Art?
(You can also refer to several blogs and youtube channels that will help you to amp up your creativity level. Here are some honorable mentions:)
YouTube Channels - Simply Nailogical, Cutepolish, Gabby Morris, and Paulina's passion.
Bloggers - Nail Art Wizard, Paulina's Passion, Miss Lady finger, ehmkay nails, and Nail
If these aren't enough you'll get tons of nail art ideas on
After exhibiting our magnificent talents, it is time to give it a final touch by applying a layer of
We did it, don't forget to pat your back and share your nail art with I adore your efforts.
 
Wasn't it that simple? You just require some basic tools, an internet connection, and some dedication to get started. Paint your imaginations and flaunt your creative art through your nails. Click your unique nail art and share it over social media to reveal your innovative side. After getting started with nail art I am damn sure that it will become your new hobby and getting new nail art frequently will become new normal. It's an era of DIY. Why visit a salon on a regular basis when you have got 'n' number of ideas and hacks over the internet. I hope you enjoyed reading this post. Don't forget to try it because actions speak louder than words.
How to get started with Nail Art?
---