Haven't pampered your skin lately? Going through acne, breakouts, oily skin, dark patches, aging, wrinkles, and other tons of vexing skin problems? Skeptical about the ingredients present in face masks available in the market? Cheer up! We are here to help you out. In this blog post, we will come across some effective face masks for every skin type that will not only aid your skin problem but will also rejuvenate your skin, eventually making it flawless.
Each and every ingredient that we are going to use is sitting somewhere on your kitchen's shelf from eternity, but you always looked at them from a monotonous viewpoint (Pun intended). These kitchen integrals act miraculously on your skin ultimately depurating it. We have listed eight marvelous masks below, go with the one that suits you the best.
Activated Charcoal - Fuller Earth mask
Activated charcoal and Fuller earth ( commonly known as Multani Mitti ) are well known for their excess-oil sucking property, gradually diminishing acne and blemishes.
You require:
➔ 1/2 tablespoon of activated charcoal powder (you can either buy it from a nearby store or can prepare it all by yourself at home).
➔ 1/2 tablespoon of Multani Mitti. (Locally available) 
➔ 1 tablespoon of pure rosewater.
Mix them well in a glass bowl and apply it all over your face leaving the eye area. Leave it for 10 minutes. Massage your face with damp hands followed by a mild wash.


Coffee mask
Coffee acts as a natural exfoliator that evenly tones your skin leaving a radiant glow. It also holds antioxidant properties that delay aging and stunningly reduce under-eye dark circles.
All you need is:
➔ 1 tablespoon of coffee powder
➔ 1 tablespoon of aloe vera gel
➔ 1/2 tablespoon virgin coconut oil
Stir them meticulously to get a smooth paste. Apply it all over your face, leave for 10 minutes and then gently rinse it off with lukewarm water or use a mild face wash.
Banana-Honey mask
 Banana works wonders in enlivening your skin, best for dry skin (people with oily skin can use it too) as it provides decent hydration, tightens saggy skin, and avert aging.
Continuous use of ripe bananas over the face imparts a natural glow and supple texture. Banana's skin holds equal benefit as the flesh as it fades the scars if constantly applied.
Honey possesses antibacterial properties. It hydrates skin, cleanses our pores, and gradually reduces wrinkles and fine lines.
Requisites are:
➔ 1 Overripe banana (to yield extra benefits)
➔ 1 tablespoon of raw honey
➔ 1/2 tablespoon coconut oil
➔ 1/2 tablespoon aloe vera gel
-
Put these ingredients together in a jar and blend them to a paste-like consistency. Apply it all over your face and neck, keep it for 20 minutes and then rinse it off.

Egg mask
 Egg white tightens your skin, cleanses, and closes your pores giving a radiant glow. That doesn't mean that you have to avoid the yolk. Its major portion comprises water. Hence when applied moisturizes your skin. Eggs are an amazing source of proteins and other incredible nutrients that impart nourishment.
Requirements are:
➔ 1 whole egg
➔ 1/2 tablespoon of honey
➔ 2-3 lemon drops
Whisk the mixture well, till it turns slightly foamy. Apply it with the help of a brush. Let it dry and wash with lukewarm water. If its smell irritates you use a gentle face wash. Pat dry and apply moisturizer.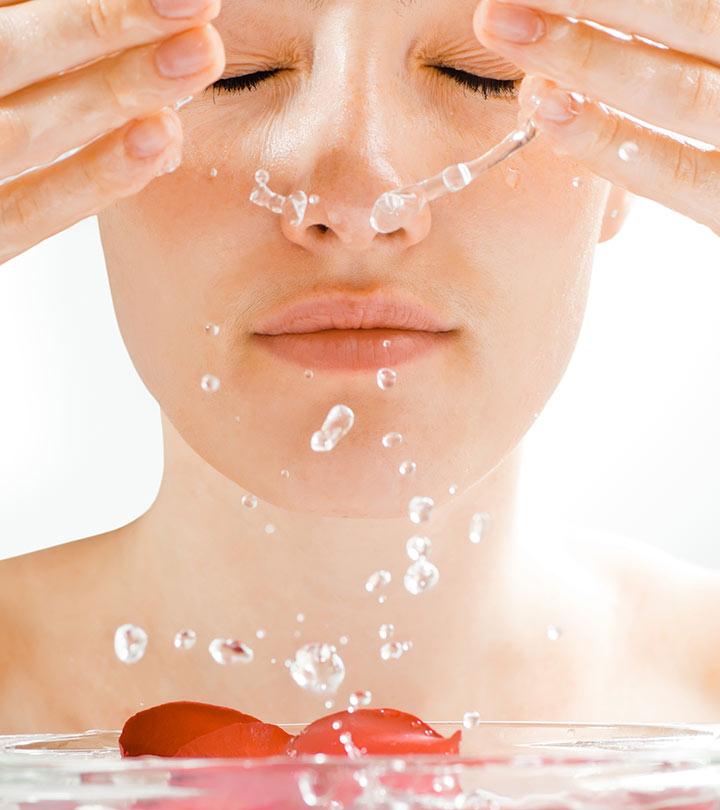 Glycerin-Rosewater mask
If you are going through a skin breakout, uneven texture, and dull appearance, this mask arrived in your view as a boon. Glycerin is a widely used ingredient in moisturizers as it hydrates our skin as well as locks the moisture. Another magical ingredient is rosewater
(Gulab Jal), one of the oldest in the beauty industry. It not only enriches our skin or reduces wrinkles but also soothes itchy skin.
You just need
➔ 1 tablespoon Glycerin
➔ 1 tablespoon Rosewater
➔ 1/2 tablespoon Lemon Juice
Combine all of them to form a transparent mixture and apply it instantaneously. Rinse off after an hour or you can keep it overnight and observe a radiant glow the next day. Apply any moisturizer or aloe vera gel just after face wash.
Rice-Wheat mask
Rice is a prominent staple that is preferably used in Korean skincare routine as it aids pigmentation and readily fades away the blemishes, eventually giving a bouncy skin and an amazing glow. When used with wheat flour acts wonders by removing the facial hair and considerably diminishing blackheads and whiteheads.
Requirements:
➔ 1 tablespoon of rice flour
➔ 1 tablespoon of wheat flour
➔ 1 tablespoon of honey
➔ 2 tablespoon of raw milk
Make a smooth paste mixing these ingredients and apply them over a clean face. You can even take steam before applying the mask to get better results. Let the mixture dry on your face and then gently rub it off with light hands. After the majority of it is removed wash your face with lukewarm water. Don't forget to moisturize your skin and flawlessly carry it (me being naive).
Oatmeal-honey mask
Oats contain antioxidant and anti-inflammatory properties. It acts as a natural cleanser as it revitalizes our skin by getting rid of the dirt in our pores and exfoliating it. On the other hand, honey possesses antibacterial and antiseptic properties and has been in continual use for centuries. It cures acne and moisturizes our skin making it as supple as that of babies.
Requisites are:
 ➔ 2 tablespoon of oatmeal (blend them the jar or simply crush it)
➔ 1 tablespoon of honey
Mix them in a glass bowl, apply it, wash after 20 minutes and see the difference. Thank me later.
Turmeric- sandalwood mask
Turmeric or Haldi possess incredible anti-inflammatory and antioxidant properties that revitalize your skin providing it a natural glow. Sandalwood or Chandan on the other hand has skin lightening properties and works wonders for dark patches.
You require :
➔ 1/4 tablespoon of wild turmeric or Kasturi Haldi. You can get it from any online store
➔ Identify it by its strong smell and dark yellow color.
➔ One tablespoon of sandalwood powder
➔ 2-3 drops of lemon
➔ 2 tablespoon of raw milk
Mix them thoroughly and it's good for application. Wash off after 20 minutes.
So these were eight awesome face masks that will not only reduce your skin problem to a great extent but will also rejuvenate it. Make sure to wash your face thoroughly before applying any of these masks, prefer a patch test before applying directly on your face.
Pick a mild face wash after removing the mask. Moisturizing is a must. Here end my granny's old yet golden tips. Make your face mask and see exceptionally perceptible changes.