It's a good idea to update your makeup and skincare collection in each season because the products that would work extremely well during the cold days of winters will melt off in summers. The dark, wine lipstick shades that you had rocked in winters would so look out of place during the humid days of summer because summer is all about vivid colors, freshness and matte makeup. While it's still a great idea to continue to experiment with colour at this time of the year, it's also very important to stock up on some protective skincare and makeup products before the summer season arrives. Also, don't forget to follow the CTM routine (cleansing-toning-moisturizing) all through the summers for great skin. Let's take a look at some makeup and skincare products that you need to stock up for summers.
1.Lightweight, Water-based and Waterproof Makeup Foundation:
The winter season may have been all about heavy, full-coverage foundations and concealers, but summertime is all about wearing lightweight makeup and letting your skin breathe in the hot weather. Anyway, heavy foundation will melt off right within minutes of application and you would need a good primer to hold it on. Pick lightweight liquid concealers and foundations and wear only as much product as you need. The other thing to keep in mind is to make sure that these products are water based and waterproof as they will have to withstand high temperatures. It's ideal to squeeze in some extra sun protection, so look out for products with SPF in them
2.  A lip balm with SPF:
Just like the rest of your skin, your lips need as much protection from the sun. Summertime can be quite harsh and dehydrating, and the effects of that are likely to show up on your lips. Don't be surprised if you have dry and flaky lips even in the hot months. The best way to deal with that is to scrub your lips regularly and to invest in a good lip balm with SPF.
3.  A nourishing hair mask:
Make sure not to neglect your hair in the summer season. Just like your skin needs all the protection at this time of the year, you hair does too. A deeply nourishing hair mask will help your hair stay hydrated and will also protect against the harsh effects of sun damage and help it heal from the same. You can make your own oats and milk nourishing mask at home.
4. An effective sunscreen lotion or spray:
Adequate sun protection isn't just about the SPF. Your sunscreen must offer you broad spectrum UV protection against the sun. Pick a formula that works for your facial skin (depending on your skin concerns and preferences) and another formula that works for your body. Spray bottles are great for the body while lotions are ideal for the face.
5.  Liquid, cream or cushion cheek products:
Like we've already discussed, it's a great idea to amp up the colour in your makeup during the spring and summer months. When it comes to blush, bronzer and highlighter, it's ideal for you to skip heavy formulas and to go for cheek products with a lightweight, fresh feel. Cushion formula blushes and bronzers are an excellent option if you want to look fresh and naturally radiant this summer season. However, liquid and cream cheek products also work well for this time of the year.
6.  A refreshing summer fragrance:
Just like you will switch up your makeup and skincare products from winter-appropriate ones to the ones that are better suited for the warmer months, it's also a great idea to pick a fragrance that is suited to the summer season. The summer months are all about fresh, fruity and floral scents that are not too heavy on the senses. A lightweight and refreshing fragrance is ideal and will work wonderfully to add a finishing touch to your summer makeup and outfit.
7. Makeup Primer:
A primer can be used as a base before makeup so that your makeup goes smoothly and stays in for a longer time. Especially, when in a humid weather or in summers, a primer is a boon and works great to keep the makeup stay as it is for a longer time.
8. Matte Makeup Powder:
Summer can make skin shiny and greasy. Choose a compact powder that would wipe away shine and also provide sheer coverage for long hours. A good matte makeup powder would keep skin shine-free and set makeup for long hours.
9. Matte Lipstick and Lip Colors:
Glossy and shiny lipsticks are so not for summers. We would lean towards lip balms with SPF; however, if you are a lipstick lover, look towards matte lipsticks with long-staying formulas that do not need frequent reapplications.
10. Highlighter for Sun-Kissed Look:
A highlighter that would help you define your face is never going out of fashion, be it any season. During summers, it's better to pick powder highlighters that would melt into your skin without giving your face a streaky look.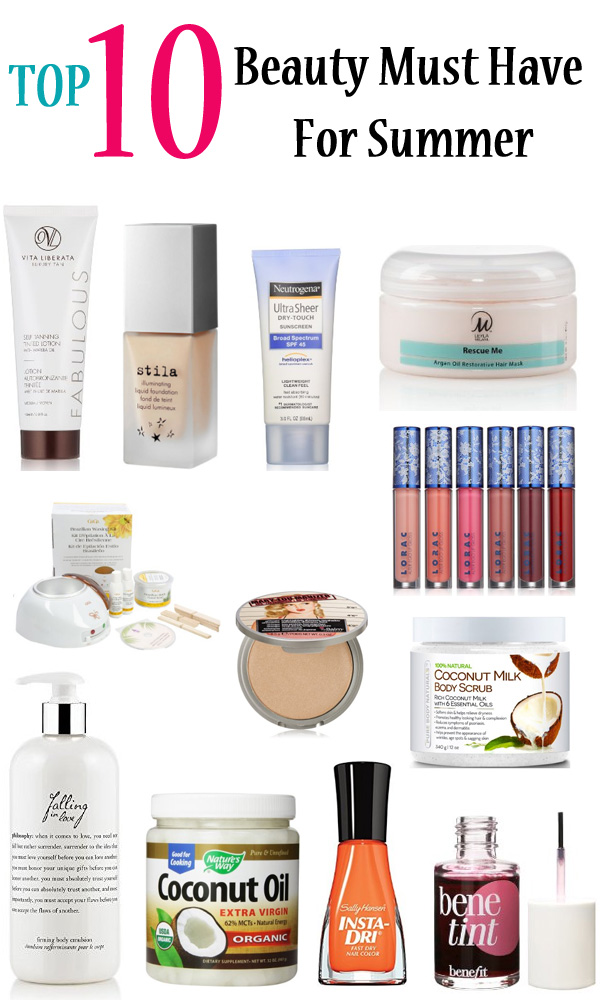 To know more about Amazing Ways To Look Better Instantly must follow the link https://morazecosmetics.com/blogs/make-up-tips/15-amazing-ways-to-look-better-instantly